Summary
Apple's rise in the enterprise will continue to be the major tailwind for Apple-focused Jamf.
Innovations like Apple's Declarative Management should give Apple-focused MDM vendors another upperhand over multi-OS vendors.
Jamf is showing strength amid challenging times thanks to a shift in strategic focus to security.
The recent ZecOps acquisition gives Jamf a unique set of XDR security capabilities for mobile protection.
Jamf continues to innovate in-house. In particular, its recent BYOD solution potentially has a game changing impact for Apple enterprise device management.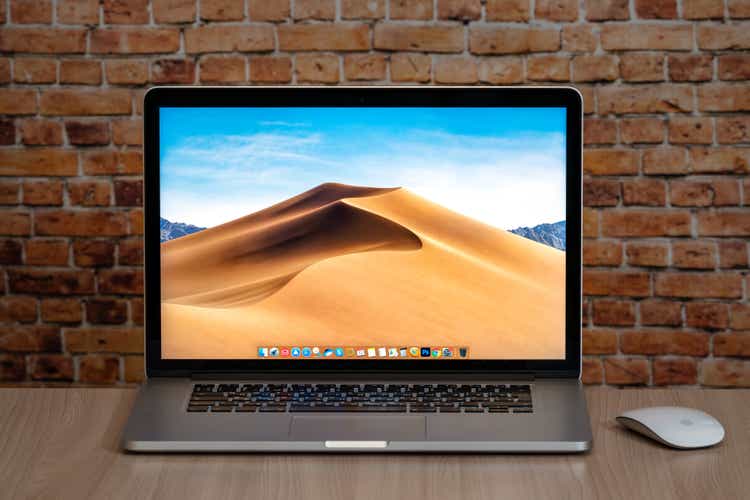 Audio Preview:
Intro
Jamf is an MDM (Mobile Device Management) vendor focused on Apple devices in the enterprise. More recently, they have expanded into security which extends their scope beyond Apple to Android, Windows, and Chrome operating systems. They also have specialist solutions for specific verticals – education, healthcare, and other industries that heavily rely on iPads (like hospitality and aviation).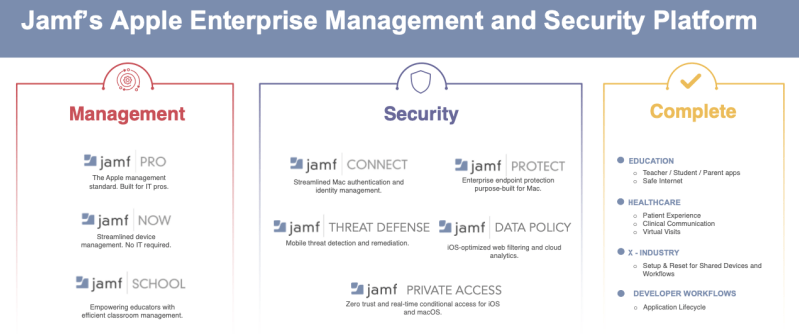 To begin reading our Jamf research from the beginning (May 2021), check out the following reports.
Jamf Holding Corp: Apple Threat Misunderstanding
Follow-Ups #2: Jamf Holding - Great Alpha From Market Misunderstanding
3Q22 Review & Financial Trends
MDM (Mobile Device Management) businesses will inescapably be impacted by the slowing economy and looming recession, and Jamf is no exception. As the pace of hiring has slowed, or even stalled at some businesses, this has resulted in fewer additional devices to manage, which in turn has led to decelerating growth. As can be observed on row 12 in the table below, in Jamf's case the YoY growth in managed devices has slowed to 17%.
A major source of the deceleration in 3Q22 was schools beginning the new academic year back in the classroom. Following the panic buying during COVID-19, there is less demand for additional iPads, which has impacted Jamf's renewals in the education sector. As a consequence, Jamf's education division's ARR only grew 15% in 3Q22. However, considering the inevitable swing in demand following the pandemic, this signals a strong business, in our opinion.
The supply chain blockages over the past 12 to 18 months has been another cause for the downward trend in managed device growth. As we will show in the IDC data later on in the update, Apple shipments of desktops and notebooks has only just recovered in Q3, having been suppressed by the supply chain congestion previously.
As a result of both the education sector returning to normal practices and commercial sector hiring slowing down, Jamf's revenue growth, ARR growth, and Net Dollar Retention, have been put under pressure.
For a better view of this table visit the Google Sheets spreadsheet.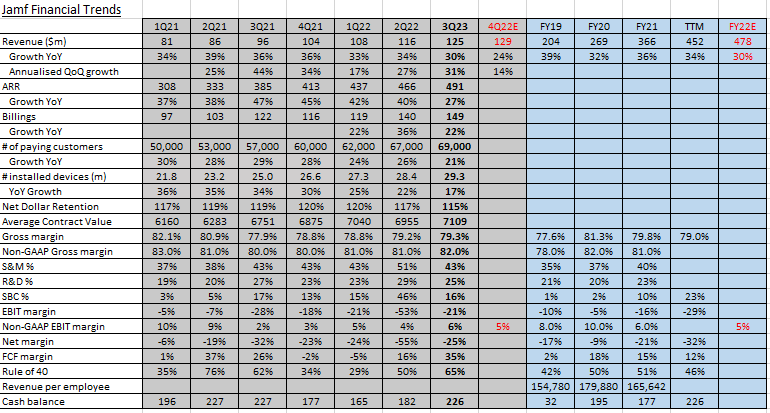 The silver lining is that Jamf has largely offset the growth decline in installed devices with success in selling its security offerings. In 3Q22, Jamf's security-related revenue grew 50% YoY organically, reaching $90m in ARR, and going forward its clear that this is an area of strategic focus in order to expand the wallet of the existing customer base. The steady increase in ACV (Average Contract Value = ARR / # of paying customers) is testament to Jamf's success in expanding more in security. Consequently, this has also helped to lift gross margin in recent quarters.
The success in selling its security offerings has catapulted Jamf's commercial division to now being more instrumental than the education sector. In 3Q22, ARR growth for commercial was 33% and education was 15%, which is a major swing considering a few quarters ago it was around 20% for commercial and 40% for education. The shift to security has been a great strategic move by Jamf's management and has helped sustain the c. 30% growth (both ARR and revenue).

It's also noteworthy that while customer number growth has slowed down, Jamf has still accrued 2,000 new customers during 3Q22, indicating the company has a great GTM presence and frictionless onboarding experience. Despite the supply chain congestion, Apple's presence as an endpoint in the enterprise has been growing, and this continues to support Jamf's customer growth and counter other headwinds.
Jamf's Rule of 40 is another positive. QoQ FCF margin has been volatile, however, on a TTM and annual basis Jamf's Rule of 40 manifests management's ability to balance growth and profitability in the face of challenging economic conditions. In the near-term, however, investors should be mindful that FCF margin might dip because in the 3Q22 call management mentioned how Jamf had been struggling to compete against startups for talent hiring, but now plans to take advantage of the weakened tech labour market. Therefore, we should expect expenses to increase and that FCF margin may decline in the next couple of quarters.