Updates - Cloudflare 3Q22
Summary
Despite an overall positive 3Q22, the deceleration in QoQ growth has concerned investors who thought Cloudflare was shielded from a possible recession.
The dual focus of cybersecurity and the enterprise segment has to a large degree helped Cloudflare maintain high growth amid economic challenges.
In the near-term, the cybersecurity + enterprise formula will likely continue to be the main catalyst for Cloudflare's growth.
When economic conditions improve, Cloudflare's Workers platform has the potential to be the main growth driver – benefitting from more SMB activity as well as attracting more enterprise interest.
Though, there are further near-term risks for investors given the relatively high sales multiples and possibility of continued QoQ growth declines.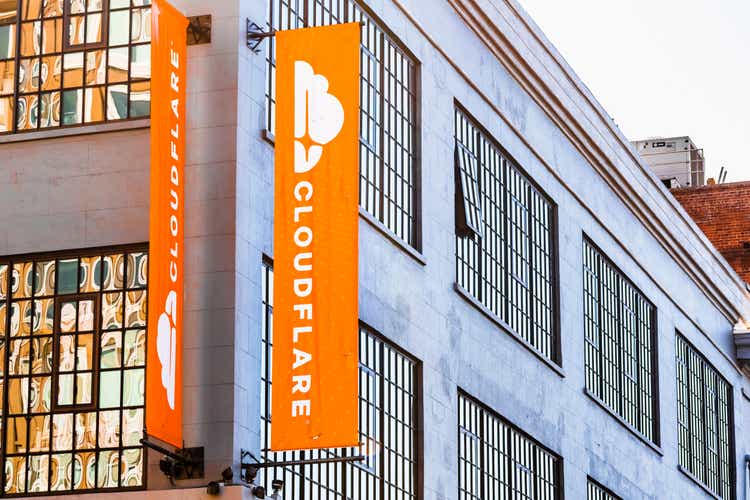 Audio Preview:
Convequity Podcast EP07 - NET 3Q22
3Q22 ER & Financial Trends
Cloudflare has surpassed $1bn in annualised revenue and its business is largely proving resilient under the macro deterioration. Despite, many paying customers downgrading to the free tier, the experience of elongated sales cycles for the larger customer cohorts, and some churn in the mid-market segment, Cloudflare is sustaining high YoY growth at 47% for 3Q22, supported by strong enterprise momentum. However, by taking a more granular look at the QoQ growth, we can see the business has experienced a slowdown, which has caused investors to aggressively sell the stock.
In the past couple of quarters, growth in the number of paying customers has decelerated sharply as a result of Cloudflare's smaller customers holding back spend or downgrading to the free tier plan. This has been strongly offset, however, by Cloudflare's growing appeal among larger enterprise customers (customers generating > $100k ARR). Larger enterprises are more resilient during downturns, and as such, these orgs continue their plans associated with hybrid and multicloud operations. This has resulted in continued high demand for Cloudflare's networking and cybersecurity solutions.
Another attribute supporting growth through tougher times is Cloudflare's dense and ultra-efficient network and infrastructure, allowing it to price products at lower prices versus rivals like Zscaler, thus accumulating more customers at a healthy rate. Whenever the economic recovery does occur, this will likely help elevate the Net Dollar Retention toward the target of 130%.
Despite an overall positive 3Q22, investors pushed the stock down from $50 to a low of $38 this week. It seems as though the cause of this is the greater slowdown in growth on a QoQ basis. In the table below, the annualised QoQ shows a sharper growth deceleration than the YoY figure. Furthermore, from Q2 to Q3 in FY21, Cloudflare experienced an acceleration in QoQ growth, whereas from Q2 to Q3 in FY22, the company has experienced a sharp slowdown. This has concerned many investors that thought Cloudflare was shielded from an economic downturn.
As is shown in the following table, in the past few quarters, the number of customers spending > $100k ARR has grown more than 50%, and this is from a high base. Cloudflare also now has 75 customers spending more than $1m ARR. This has significantly risen the ACV (Average Contract Value) in recent quarters, and has been supportive for overall growth. Investors ought to note, however, that Cloudflare are still a fair distance behind the likes Okta and Palo Alto Networks when it comes to enterprise penetration - both in terms of ARR per customer and the number of enterprise customers.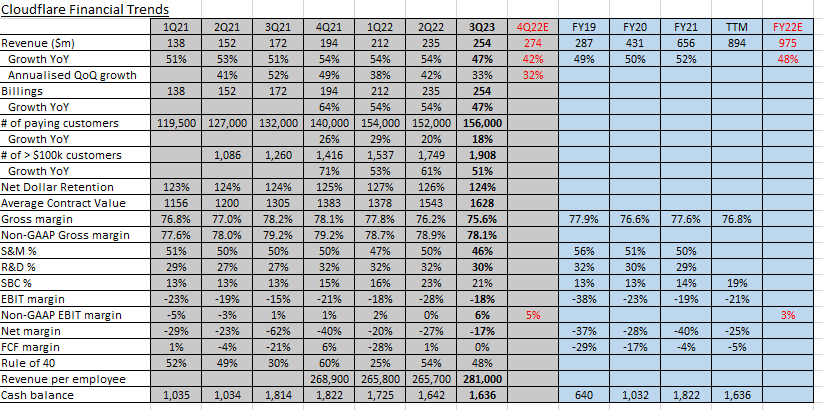 Source: Convequity